Our Wine Selection

Great wine comes from well-maintained and cared-for grapes, which is why we focus on the careful tending of our vineyard. Located in the heart of central Minnesota, Jomas Hill is home to 4 acres of Minnesota cold-hardy Marquette and Itasca vines along with Petite Pearl. Our wine is produced in limited quantities using traditional wine making practices. The wines are different from year to year depending on environmental factors. Our wines have a collective profile of qualities that the growing environment at Jomas Hill imparts on the grapes that become the wine you will enjoy. We invite you to join us in re-connecting with the land that provides for us and enjoy some of the best Minnesota wine produced in central Minnesota.

Come and enjoy the amazing views of our vineyard at sunset from the comfort of our tasting room or find your place amongst the grape vines.
Our bottled wine is available for purchase at our vineyard in Darwin, MN.
Reds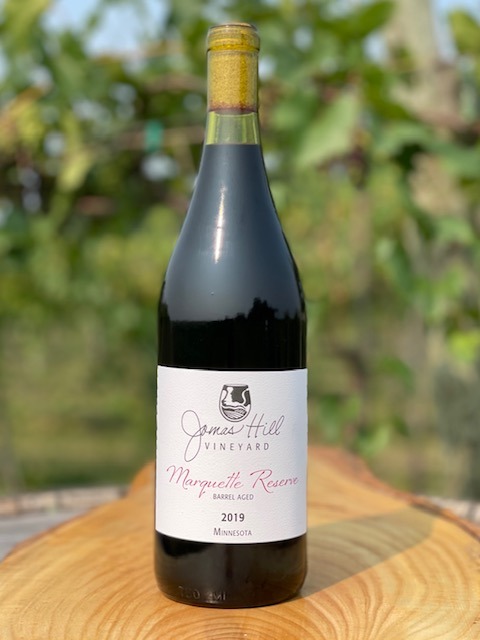 Marquette Reserve $27
Our single Marquette, which was hand crafted in barrels, offers the perfect blend of black cherry, with subtle notes of spice. Our Marquette vines, established in 2009, are carefully tended to on the same land that once provided lush pasture for our dairy herd, which was known as Jomas Holsteins.

12.1% alc/vol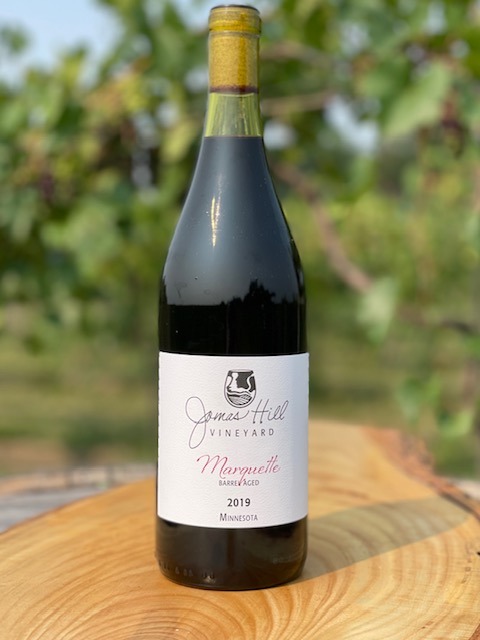 Marquette $23
This Marquette offers the perfect blend of black cherry and spice with subtle notes of oak with increased tannins. Hand crafted and matured in oak barrels for about a year.

12.3% alc/vol
Petite Pearl $23
Jomas Hill's Petite Pearl is a polished dry wine with a mild cherry aroma. Hand crafted in oak barrels for 14 months allowed it to mature gently. It presents warm on the palette with notes of dark red fruit. On the vine, Petite Pearl clusters grow to form perfect pearl shaped fruit with abundant juice.

12.4% alc/vol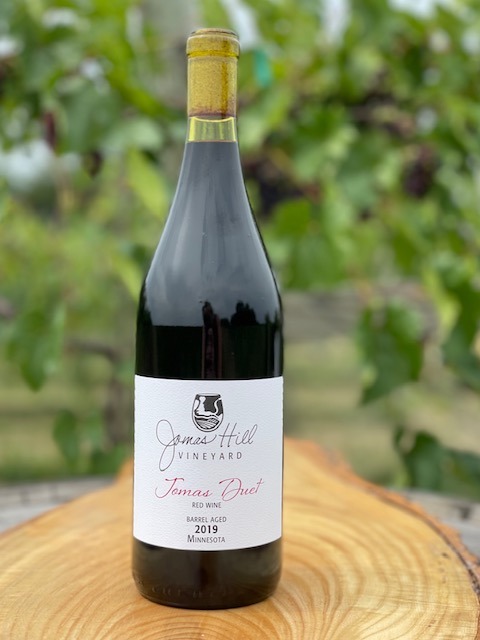 Jomas Duet $25
***SOLD OUT***
Jomas Hill's Blend is a pairing of Marquette and Petite Pearl. Keeping it all in the family, the Marquette and Petite Pearl come from the same grape lineage, and are grown side-by-side at Jomas Hill. Hand crafted and matured in barrels then blended, it's almost like they were meant to be together in the bottle.

12.3% alc/vol
Jomas Red Trio $25
Jomas Hill's Red Trio is made up of three grapes. Marquette brings dark cherry and spice flavor. Petite Pearl offers depth and smooth mouth feel, and the Cabernet Sauvignon brings additional balance between the two. Selected, hand crafted and matured in oak barrels then blended together. Enjoy this fruit forward wine with your family and friends.

12.8% alc/vol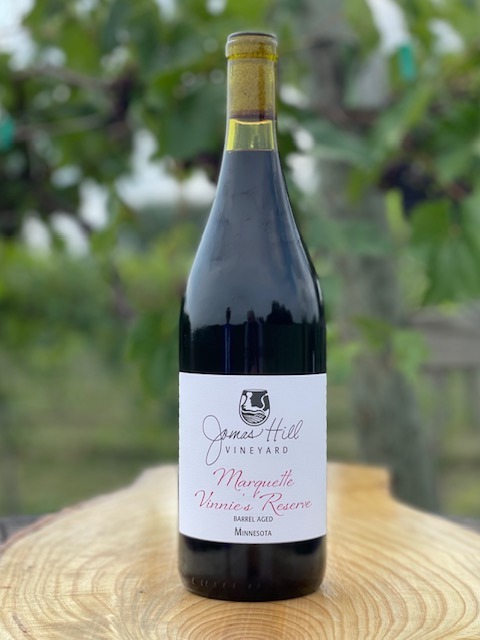 Marquette Vinnie's Reserve $32
Hand crafted and matured in oak barrels for fourteen months. The Marquette vines on Vinnie's hill picked toward full maturity gives us a wonderful balance of fruit and pepper.

13.7% alc/vol
Cabernet Sauvignon $22
The Cabernet Sauvignon wine was crafted right here at Jomas Hill. This medium-to full-body red is perfect for those that prefer a drier red wine. Look for notes of dark fruit.

13.7% alc/vol
Whites
Itasca $25
Our Itasca is a sweet blend of sunshine and water. A semi-dry white wine with notes of peach and apple, it's the perfect crisp sipping wine to enjoy with family and friends. You'll find the Itasca approachable and light, similar to a relaxing evening watching the sunset. Grown right here in our east to west rows.

13.5% alc/vol
Chardonnay $20
The Chardonnay grapes are crafted right here at Jomas Hill. This not-too-sweet and semi-dry white wine is sure to delight the senses, especially when paired with wood fired pizza, pasta dishes, or your favorite salad.

13.8% alc/vol
Viognier $20
***SOLD OUT***
Viognier, "Vee-own-yay" was developed and first planted in southern France. It later became adaptable to areas like Walla Walla and Columbia Valley, WA. It grows best in sunny vineyards with moderate temperatures and cool nights. We choose Viognier for a full body white wine. It's aromas are floral with hints of peach & honeysuckle. The wine was placed in barrels for about four months to pick up hints of vanilla. It's a great sipping wine and pairs well with chicken, turkey, & fish. Enjoy!

13.5% alc/vol
Join Our Wine Club Today!