The Jomas Hill Story

Long before our vines took root, our lush pasture land was grazed by our registered Holstein dairy herd. We have since transitioned our farmland into Jomas Hill Vineyard. Driven by our appreciation for the land and a desire to make excellent wine, we envisioned creating a space for people to be able to connect to the land through the vineyard. Using a pairing of our names, Joyce and Thomas, we established Jomas Hill Vineyard in 2009.

The Jomas Hill logo is a representation of that story, of how our past became our future. Take notice the silhouette of a dairy cow, the side-profile of the person looking ahead, the pouring from a wine bottle, the rich farmland, all within a stemless wine glass. Jomas Hill relies on the strength of our collective community which includes family and friends. Our vineyard would not be what it is today without the support of that community. What we are trying to achieve is a place for people to belong, to be part of something bigger.

When harvest rolls around each fall, we are amazed and humbled at the multitude of people that are willing to be part of the harvest in one way or another. What we hear from folks is that they like to be part of "bringing in the harvest" as it connects them back to the land or perhaps to their own agricultural roots.

Here at Jomas Hill, we are a family owned and operated vineyard and winery but we're not just about growing grapes and making wine – we're building community. And we welcome you to be part of it, too.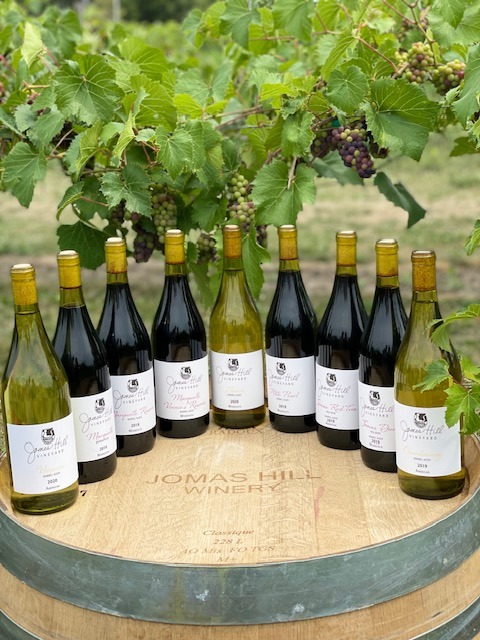 The Jomas Hill Family

Owners Tom and Joyce Carlson have an innate nature to care for others and to see potential in all things, their land included. Tom has worked in agriculture his entire life from dairy farming to agronomy to viticulture; it was his vision to use their land to grow something else, something different. Joyce spent her career in healthcare carefully tending to the unique needs of those around her, including her family.

Together, they built Jomas Hill into what it is today, and are delighted to welcome their children and grandchildren into Jomas Hill as future wine makers and land caretakers.